This blackcurrant curd is very easy to make and produces a deliciously tangy fruit curd. Ideal for spreading on bread or using as a filling for cakes .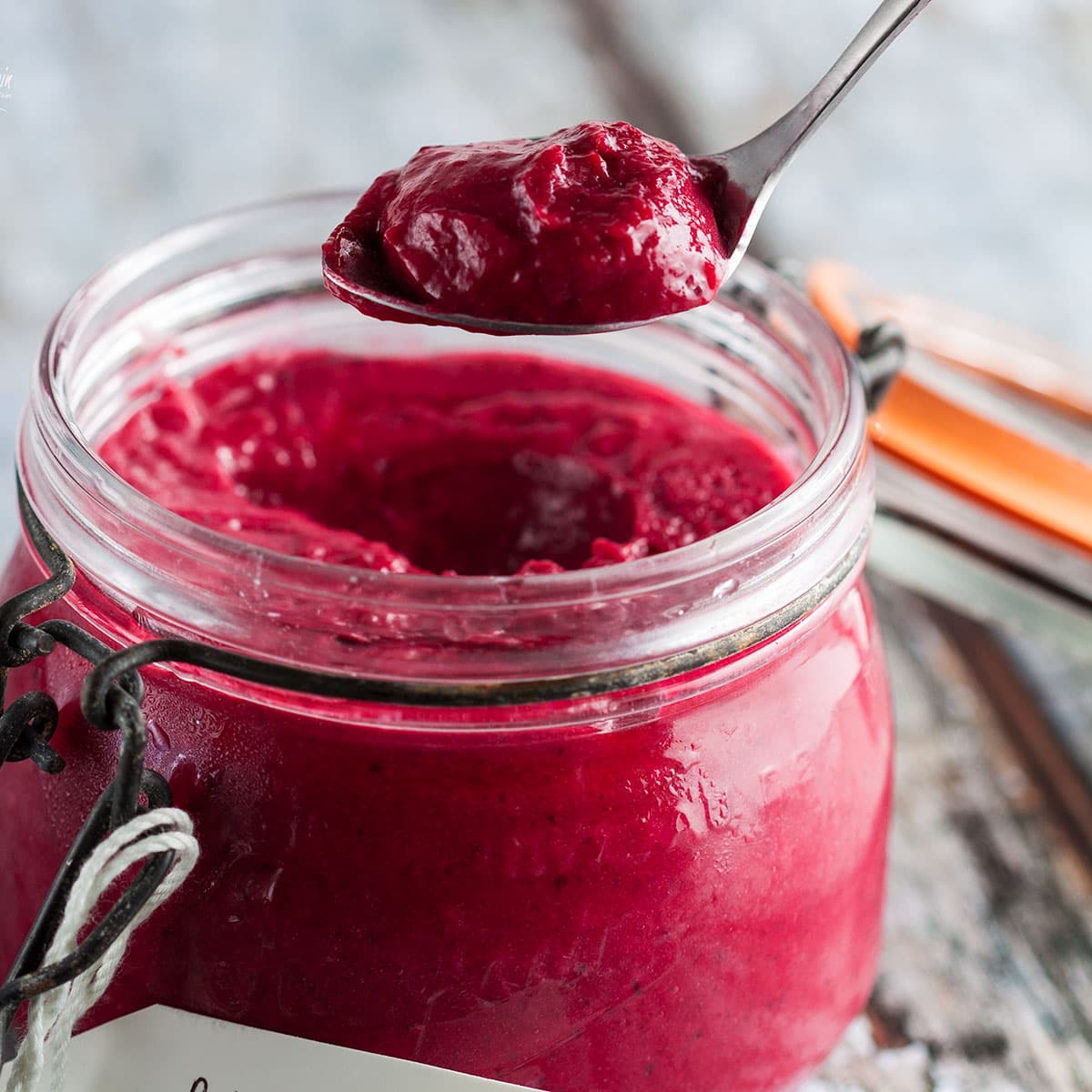 How hard is blackcurrant curd to make?
Well, in this case, I think you are going to find it very easy. It's a simplified curd recipe thickened with cornflour as well as egg.
By adding cornflour the mixture is much less likely to split and curdle so there is no need to cook it over a bain-marie (double boiler).
Actually it's not that hard to make fruit curds even those only thickened with eggs and if you have not made your own fruit curd before I urge you to give it a try. The flavour is far superior to any that you might buy.
If you are lucky enough to have blackcurrants then this blackcurrant curd is a great one to try first.
When tasting this blackcurrant curd Mr B described it as an explosion of flavour and that just about sums up this fruit curd perfectly.
Nutritional benefits of blackcurrants
As an added bonus this curd is also lower in fat than most and absolutely bursting with Vitamin C. In addition to the vitamin C, blackcurrants have plenty of antioxidants and anthocyanins which are good for the immune system. In fact, blackcurrants carry four times the amount of vitamin C as oranges and double the amount of antioxidants as blueberries

How to use fruit curd
Fruit curds are not only delicious as a spread they also make the most delicious filling for cakes. Most people are familiar with lemon curd but you can make curds from lots of different fruits such as the rhubarb and strawberry curd used in my rhubarb and strawberry meringue cupcakes.
My favourite fruit curd is this Lime curd, it is deliciously tangy and makes a tasty change to lemon and it is delicious in my lime meringue cupcakes. Or at least it was my favourite until I made this blackcurrant curd. I adore it for the colour alone.
I've used this fruit curd filling in a delicious blackcurrant and almond roulade (Recipe coming soon). Have spread it on top of plain cupcakes and swirled it through a plain Victoria sponge cake mixture to make a marbled loaf cake.
This fruit curd is quite sharp which is why I like it you can add a little more sugar if you want it a less tangy. You also might like my orange curd which is a little less sharp than lemon but still very delicious.
I think you might realise by now Im a bit of a fruit curd fan.

How long does fruit curd keep?
The curd will keep for up to 2 weeks if stored in the refrigerator. It can also be frozen and will keep in the freezer for up to 4 months.
This recipe makes approximately 900ml (2pts) which is enough to fill about 4 standard jam jars. It can be frozen but allow the curd to cool before pouring into freezer containers. (If you freeze them in the jars you run the risk of the jars cracking as the curd freezes and expands).
I made quite a large batch as I had a bumper crop of blackcurrants. If you dont think you will use it all, it makes a lovely gift. The recipe can easily be halved if you prefer.
Step by step how to make blackcurrant curd.


Blackcurrant curd
An easy to make tangy fruit curd that is bursting with flavour. Use as a spread or as a cake fiilling or topping.
Print Recipe
Pin Recipe
Save Recipe
Saved!
Equipment
4 - 6 jam jars (depending on size)
Ingredients
750

g

(1lb 10oz) blackcurrants

removed from stems

350

g

(12oz) caster sugar

4

tablespoon

cornflour

4

egg yolks

1

tablespoon

lemon juice

50

g

(2oz) butter

cut into cubes
Instructions
Wash 750g (1lb10oz) blackcurrants and place in a heavy based saucepan. Add 300g (11oz) sugar, 1 tablespoon lemon juice and 75ml (5tbsp water).Heat gently stirring until the sugar dissolves then bring to simmering point, cover and cook for

10 minutes

.

Allow to cool slightly, then blitz in a food processor or blender to a purée.

Stain through a sieve pressing with the back of a spoon to remove as much of the juice as possible. Return to the pan.

Mix 4 tablespoon cornflour with 4 eggs to form a smooth paste. Stir the egg yolk mixture into the pan and heat ,gently stirring continuously until the mixture thickens.

Stir in 50g (2oz) butter. Stir until melted then remove from the heat. Pour into hot sterlized jars. Seal and allow to cool.
Notes
Store:
Once cold, label and store in the refrigerator for up to 2 weeks.
Freeze for up to 4 months.
I'm linking this post to #CookBlogShare hosted at Glutarama