Peaches, strawberries, cream anybody? The flavours of summer are combined in this dessert of griddled peaches with macerated strawberries served with basil and cream. Bring on the sun!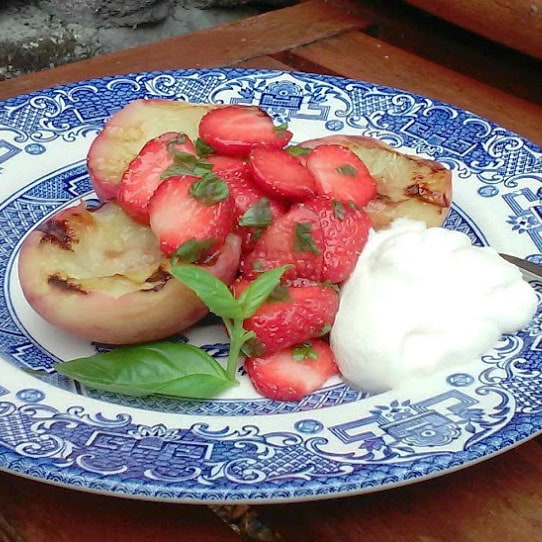 Our strawberries are just starting to ripen but we hadn't enough for this beautifully tasty dessert; so I bought a nice big punnet from the supermarket. They were small British grown strawberries, so perfect - full of flavour, sweetness and hadn't travelled too far.
Now, I'd never griddled peaches up until the other day; and I can definitely tell you I will most certainly be doing it again! Not just for the flavour, but also for the smell which they imparted as they heated and caramelised! Just divine! So should anybody else have not tried griddled peaches before; you simply must! Now! This minute! Well perhaps not this minute, but soon, very soon!
And who knew that basil goes so beautifully with peaches! Perfect! We all know that strawberries team so well with basil and balsamic vinegar so to sit them alongside griddled peaches was just divine. So summery.
The peaches I used were bought as being 'ripe and ready to eat'; we used them on the same day as purchasing them so they didn't get overly soft making it difficult to cut in half.
As for the griddle pan, well we don't have one! And I couldn't even borrow my parent's griddle pan because they don't have one either! So, we ended up using a George Forman Grill belonging to my parents. It wasn't ideal because, as you know, they are built on a slight angle to drain away juices. But it certainly got nice and hot which is what was needed and it produced really good results. And I'd guess a BBQ would be a great place to griddle them also.
So whether you griddle them indoors on a griddle pan, on a George Forman Grill or outside on the BBQ, these little beauties are delicious enjoyed alfresco straight off the heat with the macerated strawberries teamed with basil and a generous dollop of cream!
So let's get to it and cook.
Griddled Peaches & cream with Macerated Strawberries
Yield: 4 portions
Difficulty: Easy
Freezable: N/A
Time: prep time 5 minutes; cook time 5-10 minutes
Equipment:
Griddle pan or similar
Ingredients:
4 ripe and ready to eat peaches (not overly soft)
sunflower oil / rapeseed oil
For the Macerated Strawberries
225g strawberries, cleaned, hulled & sliced ¼" thick
¼ - ½ tbsp. granulated sugar
½ tsp balsamic vinegar
3 - 4 medium basil leaves, hand torn
For the cream
150ml double / whipping cream
150ml mascarpone
icing sugar, sieved, to taste
Method:
1. Start by macerating the strawberries. Place the prepared strawberries into a good sized bowl. Sprinkle with the sugar & gently stir. Add half of the hand torn basil leaves and the balsamic vinegar & mix again. Leave to macerate for about 30 minutes but not for any longer than 90 minutes as the berries will break down too much.
2. Place the cream into a good sized bowl. Whip until almost ready. Add the mascarpone and whip again until nice and thick. Add a little sieved icing sugar to taste, a teaspoonful at a time and mix.
3. Prepare the peaches. Run a sharp knife around the peach from 'north pole' to 'south pole' and back again, cutting through to the stone. Twist the peach to separate. With a paring knife (or similar) remove the stone carefully.
4. Warm your dry griddle pan (or similar) until it's nice & hot. Brush the cut side of the peach with a little oil and place on the griddle pan. Leave them to cook and caramelise for at least 5 minutes. Don't be tempted to move them during the cooking process. You may need to griddle them in two batches.
5. Use a suitable implement to carefully remove the peaches from the griddle pan.
6. Serve with the cream, macerated strawberries and a little more of the shredded basil leaves.
Enjoy!