Check out these fun fondant cat cupcakes. They comprise of a delicious and moist chocolate cupcake which are topped with a chocolate ganache frosting before being decorated as a cute cat with fondant! Includes video tutorial.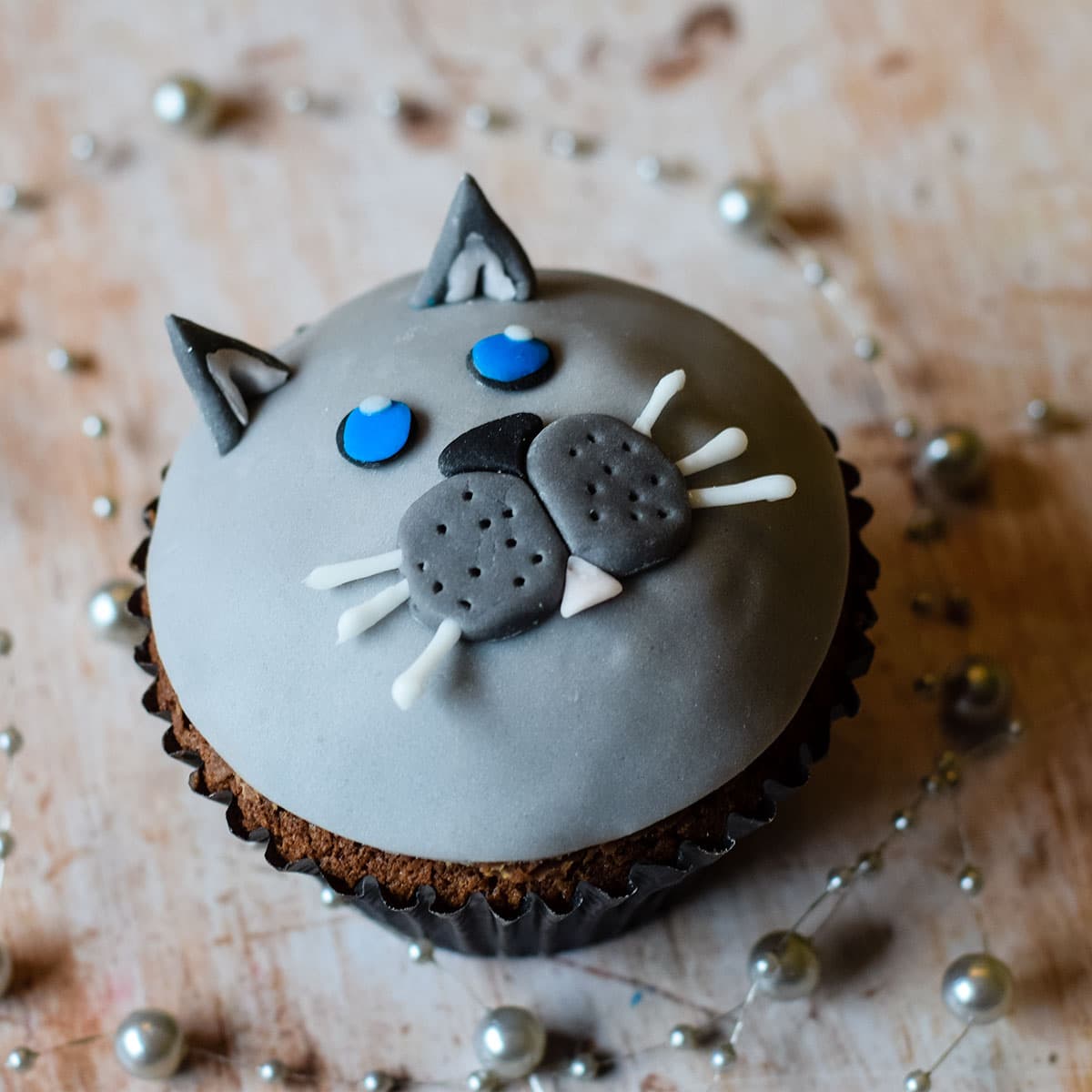 I've had so much fun making these cute cat cupcakes, seriously I felt like a giddy two year old again, chuckling as the fondant cat cupcake came to life! As a baking fanatic (which I'm sure is pretty obvious given that I share a baking blog with you) and a cat lover, these cat cupcakes were right up my street.
Cats Protection's Pawesome Afternoon Tea.
These fun cupcakes were made to help raise awareness of the Cat's Protection fundraising initiative, Pawsome Afternoon Teas. Pawsome Afternoon Tea are all about having a 'feline-fun filled afternoon' with the aim of raising vital funds to help Cat's Protection continue their work with cats and kittens most of which are less fortunate than our own cats.
If you'd like to host your own Pawsome Afternoon Tea party with friends, family and colleagues, just click on the link above to get started.

These cat cupcakes are a nod to a feline friend. Being a 'blue' colour point (the name given by the cat world to describe a washed out black colour) he's dark faced with blue eyes, but of course these cupcakes are easy to modify to your own cat's colouring be it a ginger tom cat, a pure white cat, or even a silver tabby.
For more fun making cupcakes you might like to try one of my other novelty cupcakes :

Fondant Cat Cupcakes
These fun fondant cat cupcakes comprise of a delicious and moist chocolate cupcake which are topped with a chocolate ganache frosting and before being decorated as a cute cat with fondant!
Print Recipe
Pin Recipe
Save Recipe
Saved!
Equipment
muffin tin

6 cupcake cases

8cm (3¼in) round biscuit cutter

small round cutter about 1½cm (¾in) or use the wide end of a cake piping nozzle

rolling pin (ideally plastic suited for fondant work)

pipping bag

small writing nozzle

small art paintbrush (used only for food)

baking parchment
Ingredients
for the chocolate ganache frosting
150

ml

(¼pt) double cream

150

g

(5oz) milk chocolate
for the cats whiskers
1

tablespoon

royal Icing sugar
for the chocolate cupcakes
50

g

(2oz) milk chocolate

125

g

(4oz) butter

softened

125

g

(4oz) golden caster sugar

1

teaspoon

vanilla extract

2

medium

eggs

lightly beaten

100

g

(3½oz) self-raising flour

25

g

(1oz) cocoa powder

½

teaspoon

baking powder

1

tablespoon

milk
to decorate the cat cupcakes
150

g

(5oz) light grey fondant

50

g

(2oz) dark grey fondant

black fondant

soft pink fondant

white fondant

blue fondant

cornflour

for dusting
Instructions
Chocolate ganache frosting
Pour 150ml (¼pt) cream into a small pan and heat gently until the cream begins to bubble around the edge of the pan. Meanwhile, chop 150g (5oz) chocolate into small pieces. Place into a bowl and pour the hot cream over the chocolate, stirring until the chocolate has melted into the cream to form a smooth ganache. Set aside to cool and firm up.
Cat whiskers
Line a tray with baking parchment. Place 1 tablespoon royal icing sugar into a small bowl and add a little water a few drops at a timing mixing until you have a thick icing. Transfer the icing to a piping bag fitted with a small plain round piping nozzle.

Pipe short double thickness lines about 2cm (1in) long .You'll need 6 for each cupcake but pipe plenty of spare. Set the tray aside. After an hour careful release the icing whiskers from the greaseproof paper to allow them to dry and harden up further.
Chocolate cupcakes
Preheat the oven to 190℃ ( Fan 170℃) / 375℉ / Gas 5. Line 6 muffin cups with paper cases.

Break 50g (2oz) chocolate into small pieces and place into a heatproof glass bowl. place the bowl over a pan of hot water and heat stirring until the chocolate has melted. Set aside to cool slightly.

Beat 125g (4oz) each of butter and sugar together until very pale and fluffy. Add the 1teaspoon vanilla extract and beat again to combine. Gradually add 2 beaten eggs a little at a time, beating well after each addition. beat in 1 tablespoon milk.

Sieve 100g (3½oz) flour, 25g (1oz), cocoa powder and ½teaspoon baking powder into the bowl and gently fold in. Spoon the mixture into the muffin cases to to about ⅔full. Bake for

20-25 minutes

. Remove from the oven and place onto a cooling rack to cool.
To complete
Place a teaspoon of the chocolate ganache on top of the cupcake and spread it out either with a knife or the back of the teaspoon.

Roll out the light grey fondant. Knead the fondant a little until it is pliable. Roll it out to 2-3mm (⅛in) thick using a little cornflour on the work surface to prevent it from sticking (you may find it easier just to roll part of the fondant rather than all of it at once). Cut out 6 discs of the fondant using the plain round cookie cutter. Place on top of each cupcake.

Next, roll out some of the dark grey fondant, a little thicker than before. Cut out circles of the fondant, about 1½cm (¾in) diameter then flatten slightly to make them a little larger. Cut away a small quantity of the fondant to leave a flat edge. Place two of the circles onto the cupcake where the cat's 'muzzle' will be, butting up the flat edges of the circles. Fix them in place with a little water.

Use a small amount of black fondant to create the cat's nose. Shape the black fondant into an oval shape pinching one of the longer edges so that it fits neatly into the dip between the two 'muzzles'. Check it for size before fixing into place with a little water.

Shape the cat's eyes. Roll a small piece of black fondant in your hand to create a ball. and flatten it gently with your fingers to create a neat disc. Repeat with the blue fondant, though this time it needs to be very slightly smaller so that when the blue is placed on top of the black a little of the black can be seen around the eye. Fix a blue disc onto a black disc with a little water, then secure two of the eyes onto the cupcake with a little water. Roll a tiny amount of white fondant into a ball, affix this onto the edge of the cat's eye with a little water. Repeat for the second eye.

Shape the cat's ears. Roll out a piece of the dark grey fondant into an oblong, then cut triangles from the oblong. Set these aside. Use the pink fondant to create a neat oblong and cut smaller triangles from it. Use a little water to fix the pink onto the grey triangles. Use the end of your brush to create an indent in the base of the triangle. Slightly nip the triangle to create a more stable base for the 'ear' to stand up. Use a little water to secure them to the cupcakes.

Shape a tongue. Take a small piece of pink fondant. Roll it into a ball in your hand. Gently squash it into a disc. Nip the edge to create a small petal shape. Secure the nipped edge with water into mouth area just beneath the muzzle.

Create whisker holes. Use a cocktail stick (or a thin cake skewer) to make small indents into the cat's 'muzzle'. Use the cocktail stick to make three more indents in the edge of the fondant 'muzzle'. Carefully pick up a piped whisker and place it into one of the indents. Repeat until you have two or three on each side of the cat's face.
Notes
Cook's Tips
Fondant will dry out quickly - Ball up off-cuts of fondant and keep covered while not using).
Use a dry pastry brush to wipe away any cornflour from the finished cupcake.
Positioning the royal icing whiskers in place is fiddly. You may prefer to pipe the whiskers directly onto the cat's face.
The grey fondants were kneaded with shop-bought white & black fondant. The pale grey containing just 3% black fondant, and the darker grey 15%.