"Ay'up, 'appy Yorkshire Day t' all thee folk, 'specially if tha's from this neck o' woods!"
Going back to the Queen's English now...I thought I'd share with you today a few of the wonderful features of Yorkshire and a wonderfully easy historic Yorkshire bake.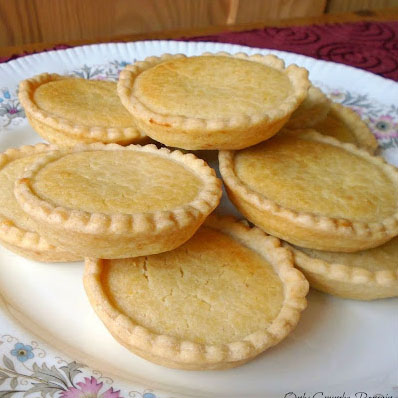 Yorkshire, God's Own County, holds a very special place in my heart. I'm proud to be a Yorkshire Lass and have many generations born before me here in Yorkshire. Not only was Yorkshire successful enough to host the Grand Depart in 2014, but as the largest county in England, we have a wonderful array of places to visit. How about the Puffin colony on the east coast at Bempton Cliffs and then travel along the coast to resorts like Whitby (Dracula's landing spot in Bram Stocker's novel), Scarborough and the beautiful Robin Hoods Bay. The historic city of York is a must with the fabulous Betty's Tea Room, as are the genteel cities of Harrogate and Knaresborough with Mother Shipton's Cave. Or if walking is your thing, we have more fabulous walks than you can shake a stick at with the Pennine Way, Yorkshire Dales and North York Moors, with its steam railway! And what about the food.....Mmm, Wensleydale Cheese, my favourite! If you're in this neck o' the woods, do check out some of the great places to visit! I ought to work for the Yorkshire Tourist Board! Check out the webpage, they've got some great giveaways! #YorkshireDay @Welcome2Yorks.
And if you fancy having a read of some Yorkshire poetry have a look here and scroll down the page to a poem entitled 'Yorkshire Grub', it's very good!

Today though, as it's Yorkshire Day and Mr E will have to enjoy his Yorkshire Puddings with lashings of gravy and put up with the fact that the Yorkshire County Cricket Club is doing a damn site better than Lancashire 😉Now, Mr E comes from across the boarder in Lancashire! I know, I know, War of the Roses and all that!! After 10 years of living in Yorkshire, he still insists he's doing missionary work! He brought some odd words with him from Lancashire, like calling a clothes airer a 'maiden' (we call them 'clothes horses' here in Yorkshire) and refers to 'benches' as 'forms', how can you sit on a form, that's what you fill in for job applications isn't it?! And he still hasn't got the hang of pouring loads of gravy over his meal! Us Yorkshire folk like our gravy tha knows!
Anyhow, being a Yorkshire Lass, I'm certainly not going to pass on making something to celebrate
Yorkshire Day
. So I contacted fellow blogger
Mother Mands
, and although she wasn't born here, she married her Yorkshire Lad and now lives in these parts, to see if she fancied joining me in making some Yorkshire fare. Needless to say she accepted; well a food lover jumps at these chances.
So what did we make? It was a difficult choice with so many delicious options: Yorkshire Pudding. Fat Rascals. Perhaps a Wensleydale cheese number. Or something with Bilberries. I decided to go for something a little more historic. Wilfra Tarts! I came across these a few months ago when Mr E bought me a historic Yorkshire cook book, 'Flavours of... Yorkshire Recipes'. OK, they're not the sexiest of bakes, but they're honest and straight forward. Wilfra Tarts are a small open tartlet made with short crust pastry and filled with a mixture of lemon and ground almonds. I adjusted the recipe slightly by adding a squeeze of lemon juice. We found them to be really lovely and kept well in an airtight box. I even upped the lemon flavour a little more on some of the tarts by glazing them with lemon icing (though this isn't traditional), sadly I forgot to photograph these (d'oh!) - they were eaten far too quickly!
Here's the history..... these little flavoursome tarts were made in Ripon during Wilfra Week in August, to commemorate St Wilfra, the patron saint of Ripon Cathedral, who started the build of the Cathedral in the 7th century. I've learnt that in 1108 King Henry I granted a charter for a fair at Ripon, where a horse was led through the town carrying a effigy of St Wilfra. It seems that this festival still continues today, as you can read here and here. Traditionally, during this festival, local women would leave the Wilfra Tarts outside of their home so passers by could help themselves. Now, in reading a little more about Saint Wilfra and Wilfra Tarts, I've learnt that some of the tartlets included cooked apple and Wensleydale cheese, though these seem to be called Wilfra Cakes. I may well have a go at this version another day.
If you like this recipe, you may also enjoy:

Yorkshire Curd Tart, another delicious Yorkshire dessert which was traditionally made at Whitsuntide.So let's get to it and bake.
Wilfra Tarts
Yield: 12 Tartlets.
Difficulty: Easy
Time: hands on time 15 minutes; plus 30 minutes bake time.
Adapted from: Flavours of...Yorkshire Recipes.

You will need:
1 x 12 hole Tartlet (Patty) Tray
Rolling Pin
9cm Cookie / Biscuit Cutter
For the Short Crust Pastry
175g Plain flour, plus a little extra for rolling
75g Butter, chilled & cubed
Zest of ½ Lemon (optional)
c6 -7 dessert spoons of Cold Water
For the Filling
50g Butter
150ml Milk
2 tablespoon White Breadcrumbs
25g Ground Almonds
50g Caster Sugar
Zest of 1.5 Lemons
Juice of ½ Lemon
1 Egg, lightly beaten
For the Lemon Icing (optional)
3 tablespoon icing sugar, sieved
juice of half a lemon
How to make them:

1. Make the pastry. Place the flour and cubed chilled butter into a bowl. Rub the fat and flour between your thumb and fingertips until the mixture resembles breadcrumbs. Add the lemon zest (if using) and gently distribute it through the mixture. Add half of the water and, using a knife, cut through the mixture to combine. Gradually add a little more water and continue cutting through the mixture until the pastry comes together.
2. Roll out the pastry. Dust a clean work surface with a little plain flour. Using a rolling pin, roll out the pastry until it's fairly thin. Regularly move the pastry around as you roll it out, dusting the work surface with more flour should you feel it sticking.
3. Cut out the pastry discs & line the patty tray. Use the 9cm cutter to cut 12 circles in the pastry, avoiding cutting into neighbouring circles. Carefully lift the pastry discs and use to line the tartlet / patty tray. Place the lined tray in the fridge for the pastry to relax.
4. Preheat the oven to 180c / Fan 160c / Gas 4.
5. Make the filling. Melt the butter in a small pan over a gentle heat. Once melted set it aside to cool a little. Place the breadcrumbs into a good sized bowl. Warm the milk in a separate pan until it almost reaches boiling point and pour over the breadcrumbs, stir and leave for 10 minutes to allow the breadcrumbs to absorb the milk. Add the ground almonds, caster sugar, and lemon zest and mix together. Stir in the melted butter followed by the egg and beat. Add the lemon juice and mix.
6. Fill the pastry cases. Remove the lined tartlet / patty tray from the fridge. Using a teaspoon, carefully fill each case with some of the mixture. I found that 2.5 teaspoons of the mixture was all I needed for each case.
7. Bake. Place the tray into the oven and bake for about 25-30 minutes. You may need to rotate them part way through baking. The mixture will puff up a little during the bake, but will then sink back down a little when cooled.
8. Cool. Once baked, remove from the oven and place the tartlets onto a cooling tray.
9. Make the lemon icing (optional). Place the icing sugar into a small bowl and add a little of the lemon juice. Stir, slowly adding more juice until you have a thick, smooth mixture. You may not need all of the lemon juice. Use the back of a teaspoon or pallet knife to spread a little of the icing onto each tartlet. Set aside for the icing to dry.
Enjoy!